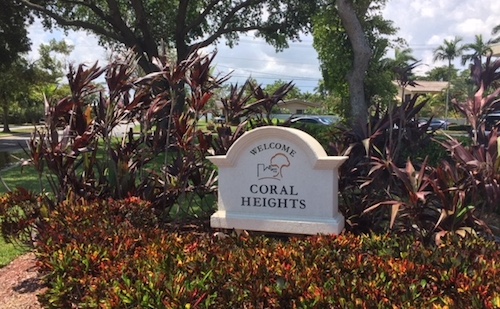 The Corals / Coral Heights are well-established community that were mainly built between 1940 - 1969. Over the years development and larger homes were constructed to the neighborhood mix. The Corals include (Coral Woods, Coral Shores, Coral Hills, Central Corals, Coral Heights, North Corals & Floranada Ridge). The neighborhood borders are west of Federal Hwy and east of Dixie Hwy between Commercial Blvd and Oakland Park Blvd. Easy access to the city of Oakland Park and the Library, Its city hall, and multiple parks (within the neighborhood) gives The Corals and Coral Heights a real sense of community / Floranda Ridge s a nearby neighborhood and is included in The Corals / Coral Heights neighborhood.
There are three Publix Grocery Stores that anchor the neighborhood as well as a Fresh Market and several smaller grocery stores. It also offers and an A-rated elementary school, Floranada Ridge Elementary, and within Proximity to Coral Ridge Mall and North ridge Mall, restaurants, shopping, entertainment, and a short bike ride to the beach. Coral Heights is one of the most desirable neighborhoods in Oakland Park. Floranad Elementary An A-rated school serves the Coral Heights neighborhood. Oakland Park Elementary Serves the Coral Woods neighborhood.
Tom Wolf Team at RE/MAX are the Coral Heights Neighborhood Experts. They are residents of Coral Heights, Oakland Park Since 2010.
The Corals / Coral Heights Homes for Sale
Tags: #Coralheights #coralheightsrealestate #coralheightshomesforsale #coralheightsrealtors #coralheightsrealtor #coralheightsrealestateagent #oaklandparkrealestate #oaklandparkrealtors #oaklandparkhomesforsale #theCorals #oaklandparkrealtor


Please remove some of the selected filters.