Q2 2022 Market Update
The "shift" in Real Estate that everyone's been expecting in the South Florida real estate market has begun. The Market has softened compared to the beginning of the year.
This Market update is for Broward County, below is for Single Family Homes.
If you need a specific city or type of property, simply contact us, and we would be happy to provide you with that personalized data!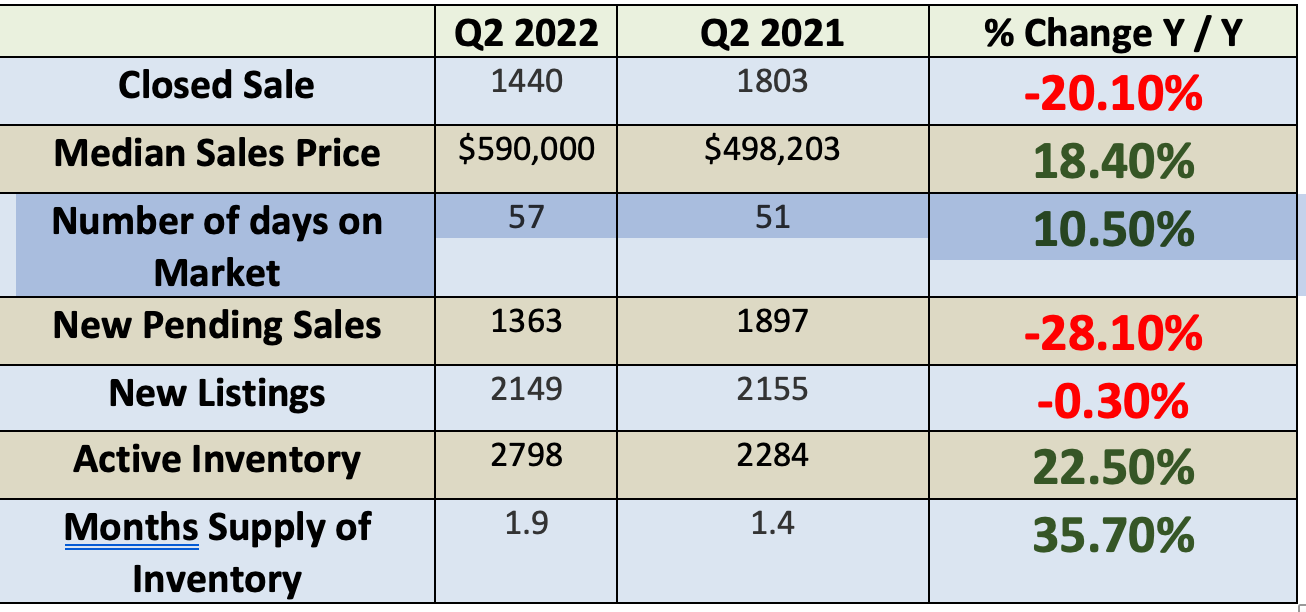 The first stat to review is the "Active Inventory".
We are up 22.5% at the end of Q2 then we were last year. Not a major increase but an increase still the same, which is giving buyers more choices than last year
The next stat is "Pending Sales". In June we saw a decrease of a whopping -28% in Pending Sales. This means there are much fewer homes selling compared to the number that are coming on the market.
This decrease is what we've been talking about and expecting - especially as interest rates have increased by 2% this year alone. Because of this, some buyers have left the market. Many report feeling that they have been "priced out" because interest rates have increased and costs have risen. However, the topic of rates should be for a separate conversation, but the reality is rates are still historically low. That being said, we're seeing fewer sales happening now than at the same time last year or even at the beginning of the year. The frenzy has definitely slowed down.
The next stat we want to consider is the "Number of Days on the Market". We believe this is one of the most important numbers to consider, as it can give us a good idea of what the current market is doing.
But before I share this number, let's keep it in context: in June 2021, listings averaged about 13 days on the market. Q2 listings are averaging about 57days. This is an increase of over 10%, and we believe that number will continue to go up for the remainder of the year. But keep in mind that for the last two years we have been in a very unique market. In a typical market, listings average 90 days on market – so even though they are up, homes are still moving quite efficiently and is telling us we are still in a sellers market (albeit the peak of this Seller's Market has passed).
We are not seeing massive price reductions, although prices of homes that were originally priced high, sellers have become more realistic.
Here's the most important stat that we like to look at: the "month's supply of inventory". For all property types, the number has remained flat at 2.4 months for Broward County. If you look at more granular data like "Single Family Homes in Fort Lauderdale," the months of inventory increased from 1.4 months in June 2021 to 1.9 months in June 2022 and that is an increase of 21% over month. 21% is a high increase but it still shows we are very much in a seller's market. Sellers may have missed the peak of this market where prices were growing organically because of bidding wars. We are seeing less of that and as the year goes on, we think this number is going to go up even further - probably closer to 3 or 4 months of inventory across all property types.
Does that mean the market's crashing? Absolutely not. It just means the market is getting less competitive, and buyers have more options to choose from. We're normalizing, not crashing.
Remember, a neutral market is six months of inventory. So if we approach 3 or 4 months of inventory, we're still very much in a seller's market. That said, the data does seem to indicate that we are getting much closer to a more neutral market than we've seen in a long time.
But what does our experience tell us? From our own recent listings, we've seen homes that would typically get about 10-plus offers in January or February (or anytime last year) now getting two to three in the last month. Listings that would be gone the first weekend are now staying on the market a little longer.
Again, the market is not crashing for several reasons. First, the fundamentals are very different than they were in the once-in-a-lifetime crash of 2008. For example, between 2004 and 2008 the average months of inventory averaged about 8.4 months of inventory. So the current reality is much different! You still need to qualify for a loan and lenders no longer do Stated Income/Stated Assets and providing 100% financing. Buyers need to qualify and have some skin in the game.
If you're a buyer trying to time the market, prices are not expected to lower, and rates will surely rise. Yes, rates are higher than they were a year ago, but relatively speaking, they are still historically low from years gone by. But we do expect the Fed to raise rates another full point before the end of the year. I am advising clients if they can buy down the rate or lock in their rate and refinance should rates drop.
If you're a seller, now is the time to take advantage of the market while it's still in a low inventory market to maximize your return. We are expecting to see more and more homes coming on the market in the weeks and months ahead. That being said, we are also trying to set expectations for sellers that the days on the market will be longer and homes may take a little longer to sell.
If you have any questions about how this affects you, or any questions about the South Florida real estate market - make sure you give us a call, shoot us a text, or send us an email. We got your back when moving in South Florida.
The Tom Wolf Team - Re/Max Experience