What it means to be in a Seller's Market in Coral Heights

What it means to be in a Seller's Market in Coral Heights
Have you thought about selling your house in the near future? This is the time to really consider. We are in a seller's market here in Coral Heights. Which is making it very advantageous to sellers who are looking to sell. There are more buyers in the market than houses for sale. In this market we advise those who's housing needs have changed (downsizing or upsizing) to sell.
Inventory for Single Family Homes in Coral Heights are at an all-time low with .05 months inventory. Which means if no new homes were to be placed on the market in a ½ a month or two weeks, there would be no homes for sale in the neighborhood.
For Normal markets, a 6-month supply is necessary for normal or neutral markets in which there are enough homes available for active buyers (buyers to find homes to buy. (see the graph below):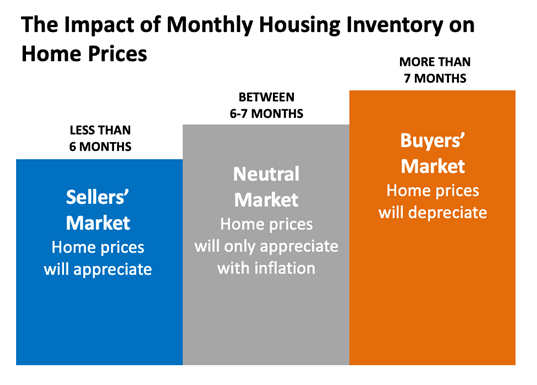 Which creates bidding wars on the few houses that are in the market making it necessary for buyers to submit very attractive offers and terms..
As this happens, home prices appreciate, and sellers are in the best position to negotiate deals that meet their terms. If you put your house on the market when there are so few Today, you have multiple buyers who are ready, willing, and able to purchase a home at asking price or higher. With low mortgages and all that has happened this past year, it is has prompted individuals to think differently about where they want to live – and they are acting on it.
The supply of homes for sale are not keeping up with the demand of buyers looking ito purchase in Coral Heights. Making this an optimal time to sell your home in Coral Heights.
Take Away
Home prices are appreciating in Coral Heights. Making your home available in this market will give you the most exposure to buyers who will actively compete against each other to purchase the home. Our Contract information is below.

Award Winning Team
Tom Wolf Team
Coral Heights Realtors
Tom (954)-709-2565
Fernando (954)873-7189
Team@TomWolfRealtor.Com
Tom Wolf Team
RE/MAX Experience