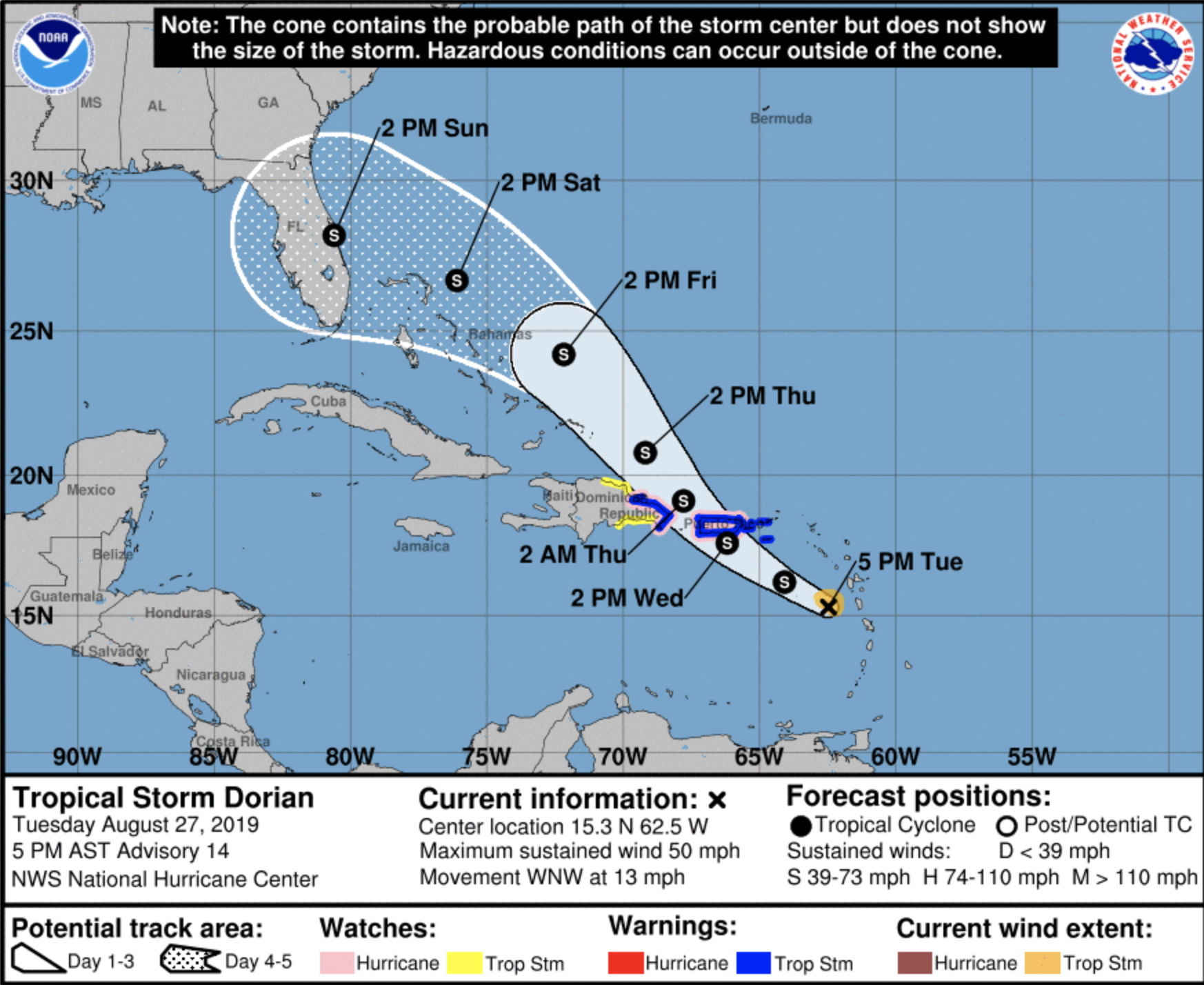 As of this morning's 5 am update, Florida is now in the cone of the possibility of tropical storm Dorian, currently located southeast of the Lesser Antilles.
As a friendly reminder, please view below a list of things you must be aware of & do if we do experience a storm:

WHAT SUPPLIES SHOULD I HAVE TO STAY SAFE?
• Flashlights and a battery-powered TV and radio handy in case the power goes out
• Extra batteries: AA, AAA, C, and D Batteries are recommended
• At least a 3-day supply of water (one gallon per day per person)
• At least a 3-day supply of food (if you have a baby, at least 1 weeks' worth of baby food)
• First-aid kit
• Medications (7-day supply and medical items (hearing aids with extra batteries, glasses, contact lenses, syringes, canes, etc.)
• Sanitation and personal hygiene items
• Cell phone (fully charged) with an extra battery or external charger that does not require electricity
• Battery-powered or hand-crank radio (NOAA Weather Radio, if possible)
• Extra set of car and house keys
• Insect repellent
• Rain gear
• Camera for photos of possible damage
• Pet supplies, including a collar, leash, ID, food, carrier, and bowl
WHAT SHOULD I DO BEFORE A STORM?
• Fill your car's gas tank
• Take out the extra cash and store it in a safe place
• Purchas flashlights. Do NOT use candles as it can cause a fire
• Close all windows, doors and hurricane shutters
• If you have a balcony or back yard, bring in all outdoor furniture
• Turn refrigerator & freezer to the coldest setting and keep closed as much as possible so that food will last longer even if the power goes out.
• Talk with members of your household and create an evacuation plan. Planning and practicing your evacuation plan can minimize confusion and fear during a storm.