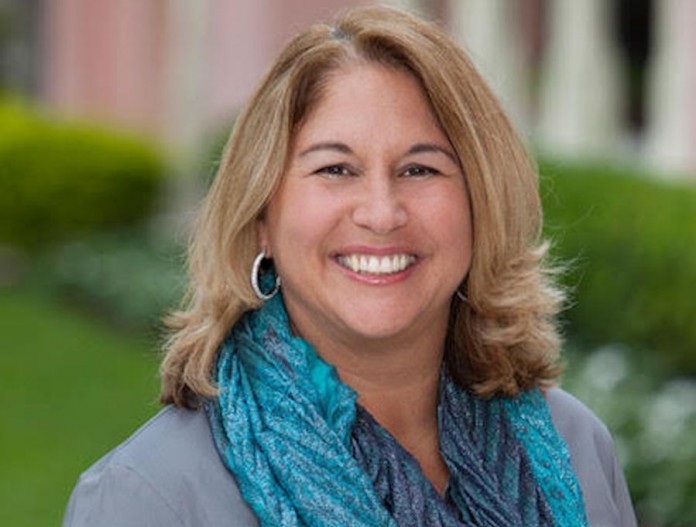 Christine Hanson- President-elect of Florida Realtors
Fort Lauderdale native takes over Florida's largest association of realtors in 2018
This past February, Christine Hansen, broker and owner of Century 21 Hansen Realty in Fort Lauderdale was elected to lead Florida Realtors as their president next year. Hansen has been in the real estate business for decades and for years she's been involved in the statewide organization of realtors. Over the past five years, she has served in nearly every role on the executive board, so it was only natural that she step up to lead the organization into the roaring 20s.
Hansen recently chatted with Hotspots about getting into the business, her role at Florida Realtors, as well as pitfalls and scams to avoid when purchasing your dream home.
How did you get into Real Estate and how long have you been in the business?
I got into Real Estate because my mom was the broker of the office that I am now the Owner/Broker of. It was exactly 30 years ago this year. Our office was founded in 1977 and I got my real estate license in 1987 and my broker's license in 1989. So it was my mom!!
Generally, how is the market now in South Florida?
We definitely have a good market. There's a lot of things that are going on in regards to the landscape of the market. For example, interest rates are still low, however there have been a lot of reports that they are going to start to go up. I think that is helping buyers, who are on the fence, waiting to see if they should buy now or not, to actually start seriously looking at purchasing a home. They want to take advantage while the interest rates are still low. The second thing is inventory. Obviously, the lower priced homes allow more people to qualify to buy them so we do have a bit of an inventory situation. We need more inventory, especially in the price point between $200,000 and $400,000. Those homes tend to go relatively quick.
In terms of the LGBT Community are there any special areas that are hot right now?
I don't know, as far as this minute, what would be a new hot spot. My office is off of Commercial Blvd. and Bayview and I probably have at least 50-60% of my agents are LGBT. We can see evidence everywhere, from Lighthouse Point to Oakland Park, to Poinsettia Heights, to Coral Ridge. I honestly feel that now, because people are out of the "dark ages" especially here in South Florida, that it's not as important to the LGBT community [to live in a specific neighborhood] as it was at one time. Not only is there acceptance, but there is much less housing discrimination. People are comfortable in more areas. They have more opportunity to choose based on their lifestyle. Do you want to be in a high-rise downtown, do you want to be by the beach or intercostal.
Tell us more about you role at Florida Realtors.
So, next year in 2018 I will be Florida Realtors' president. Most realtors get involved in their local association; I was president of the Fort Lauderdale association in 2007. Since then in 2014, I ran for and was elected to be the secretary for the Florida Realtors, in 2015 I for treasurer, and last year, in 2016 I was elected vice president and I am currently serving that term. Florida Realtors has over 165,000 members and we have a budget of over $19 million. It is so important to be involved because this is the industry and profession that I love, I have dedicated my entire life to it and it's nice to be able to work with realtors throughout the state and have positive impact on our industry. It has given me more of an in-depth knowledge of our industry and the various chapters and arms of this profession.
What does your role as president encompass?
As president of Florida Realtors, one of the charges is to be the voice of real estate for all of our members. We do a lot advocacy. Talking about personal property rights, we've been fighting in Tallahassee to eliminate the business rent tax, we are the only state in the country that still has that, so we are trying to get rid of it to bring more business to our communities. There are a lot of things that we do that help where realtors don't even know the things that could have happened because we are able to avoid them before they get there. Also for the public, with regards to property rights especially the waterways. We get involved in a very public and political way and it's all based on homeownership and our community.
The second thing is to bring business into our state. WE do a lot of things internationally to let consumers outside of our country know that there is so much that Florida can offer, and that will help our commercial and residential realtors.
The third charge is to build relationships at the state and local level so that we are able to hear about issues and address them. Right now there is a serious issue about fraud and wire transfers. We are very involved right now trying to get the word out that if you are going to do a wire transfer set it up verbally and make it with a person that you know, that you've worked with before, and that you trust. Otherwise, work out another method of payment. We are seeing a lot of fraud in that area now.
For more information on Florida's real estate market or to contact Tom Wolf, visit TomWolfRealtor.com or call the office at 954-709-2565. Her office is located at 3010 E. Commercial Boulevard in Fort Lauderdale.

Original article was posted in https://www.hotspotsmagazine.com/2017/04/26/a-qa-w...