MLS Market Stats - July 2016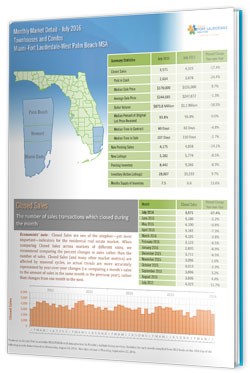 MLS Market Stats - July 2016
Median Sales Price Continues To Increase Across Broward County Housing Market The rising trend of Median Sale Prices for both single-family homes and townhouses/condominiums continued in July from those numbers one year ago.
The Median Sale Price for single-family homes is up 2.6% (from $311,900 in July, 2015 to $320,000 in July, 2016) while townhomes/condominiums are up as well with an increase of 4.4% (from $137,000 in July, 2015 to $143,000 in July, 2016) according to statistics released today by the Greater Fort Lauderdale REALTORS® (GFLR), the largest professional Broward County-based Association of licensed real estate brokers and sales associates.
Follow Link to MLS Stats
Tom Wolf is a Fort Lauderdale Real Estate Agent. Focused on Home Buyers, Sellers, and Real Estate Investments in the Fort Lauderdale area.